OBO Challenge Weekend in Tallinn

How did it come to this? The OBOccasionals Tour to Tallinn on June 29-30, 2013?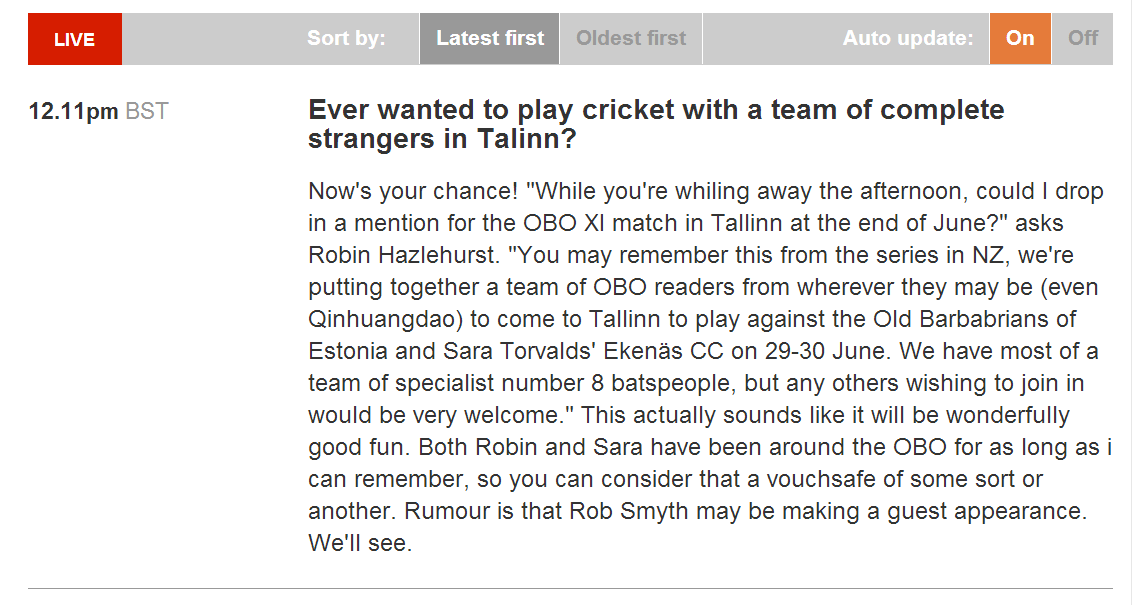 Well, it all began with a bit of banter on one of The Guardian's over-by-over reports (or OBOs, for short) during the England v India Test series in December:

"Can we have a huge Congratulations/Thank you/Well done! to Finn for finding such a nice way to kick-start the celebrations of Finland's Independence Day today?" says the disconcertingly chirpy Sara Torvalds. "Of course, his getting MS Dhoni's wicket won't even register with most of my (or his?) fellow Finns, but in the extremely tiny world of Finns for Finn, I find it eminently suitable..."(8th over of the second innings of the Third Test).

To this, Robin Hazlehurst of the Old Barbarians in Tallinn responded (41st over): "...Meanwhile it is very cold and snowy in Estonia and I'm not celebrating Finn taking a wicket because I'm sick of Finns taking our wickets when we play them. Ms Torvalds is welcome to bring her team across the water and join their number if she'd like. A real OBO international match-up."

Ekenäs Cricket Club naturally accepted this challgenge, and by the time the New Zealand series rolled around, Robin Hazlehurst had managed to set the stage for a weekend of cricket involving cricket-lovers from Finland, Estonia and the UK: "....I think I can proudly claim credit for last night's washout", he said (16th over of the England innings) after a rainy start to the New Zealand series. "Inviting the entire OBO to play cricket in Tallinn (beautiful old town by the way, very medieval) on 29-30 June against the Old Barbarians http://www.oldbarbarians.ee/en (so called because we are old and barbaric, obviously) and Sara Torvald's team Ekenäs Cricket Club www.ekenas.cc was fated to be a test of my - and your - fortitude. It would probably work better on a day when you have a lot of readers like today - or tonight - for example, so please can you put this invitation up again? All welcome, especially the not-very-good-at-cricket. A genuine international OBO challenge tournament, who would not want to participate?"

By the Third Test (45th over) the series had not gone as expected for England, but the response to the Guardian OBO/ECC/Old Barbarians weekend of cricket was excellent: "You may remember that I suggested inviting OBOers to come and play a cricket match in Tallinn this summer, and you sounded interested – well, we have seven players signed up so far after only one plug on a rainy NZ night, so it's looking good," says Robin Hazlehurst. "Sara Torvalds is also bringing her team from Finland, and we've booked both pitches for the whole weekend of 29-30 June. Any and all followers of the OBO are welcome, ability to play cricket is certainly not a requirement."

The level of play in the end proved much better than we expected. Photo evidence that it all really happened is available on the OBOccasionals site and there's a match report on www.ekenas.cc. And there's the piece I wrote for Wisden Inda, of course. But you may prefer to read the unedited version here.